Mauritius Tour Package In Summer (International) 1,83,149
Hermon World Tours & Travels
Mauritius Tour Package In Summer
Stay: 5 Days 4 Nights
Inclusions: Meals, Flights, Accommodation, Transfer, Sightseeing
Themes: Shopping, Family, Luxury, Hill stations, Bestseller, Sightseeing
Features :
Hermon World Tours & Travels
Mauritius Tour Package In Summer
Stay: 5 Days 4 Nights
Inclusions: Meals, Flights, Accommodation, Transfer, Sightseeing
Themes: Shopping, Family, Luxury, Hill stations, Bestseller, Sightseeing
Overview:
Visit Mauritius to have the best ever experience of your life with your lovable ones. We hereby greet you to begin this beautiful journey of yours to Mauritius with us. This Mauritius summer package will not only give you kick start to your life but also make you feel pleasant and blessed like never before.
About Mauritius:
Mauritius, an Indian Ocean island nation, is known for its beaches, lagoons and reefs. The mountainous interior includes Black River Gorges National Park, with rainforests, waterfalls, hiking trails and wildlife like the flying fox. Capital Port Louis has sites such as the Champs de Mars horse track, Eureka plantation house and 18th-century Sir Seewoosagur Ramgoolam Botanical Gardens.
Mauritius as far as the beauty of the world is concerned is the most beautiful place to visit in World. The beauty of this place gives a thrilling and satisfying experience in itself. Mauritius river rafting package is on the upper side when it comes to enjoying the thrill associated with water sports. You are going to remember the water sports which you will enjoy with us. The temperature of Mauritius is cool, and is quite soothing throughout the year, hence the popularity of summer special packages.
Mauritius is a densely populated island of around 1.2 million people. It has a reputation for stability and racial harmony among its mixed population. Mauritius is known as a plural society where all the ethnic groups present: Hindus, Muslims, Creoles, Chinese and Europeans live in peace and where all the ancestral cultures have been preserved. These features make the island a unique place in the world, and the Mauritians known for their tolerance and kindness towards all people.
Most Mauritians are bilingual being equally fluent in French and English. English is the official language, but French and Creole are widely spoken. Oriental languages also form part of the linguistic mosaic.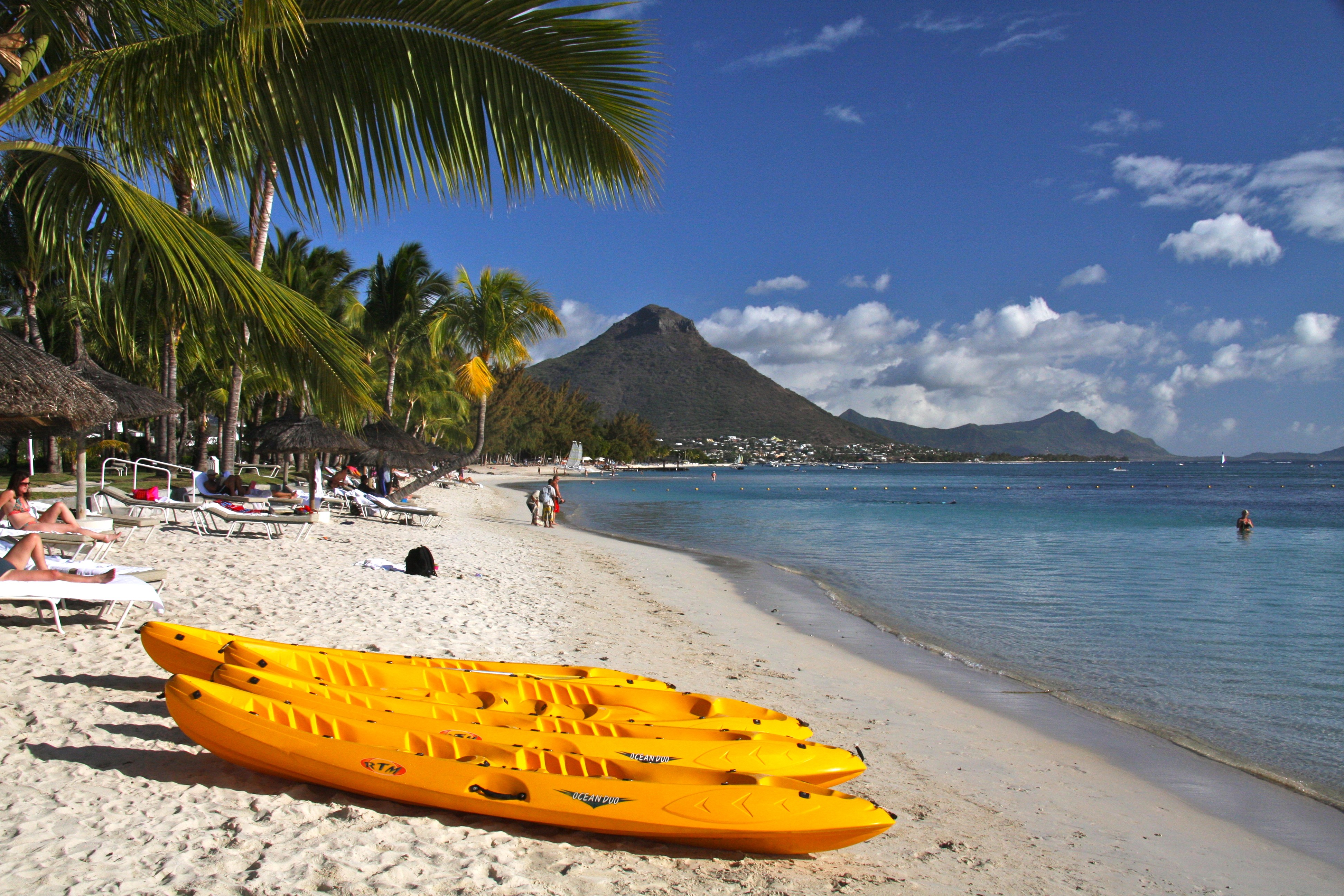 The several water sports activities that you are about to experience with us are parasailing, sea walk, tube ride, etc. People at Mauritius are very generous and polite and are good at making relations with others. They treat everyone politely and thus you will feel the need to visit here again and again.
Even you will get to enjoy the sight of various islands like North Island and South Island that are based in Mauritius in this unforgettable Mauritius Nature walks package.
One thing that is quite assured from our end that you are not going to forget this journey in your lifetime. The quality and variety of food that will be offered at the hotel is just amazing and tasty. Thus your journey to Mauritius will let you feel your life to the fullest with your relatives, family or friends. You will even learn the culture of Mauritius and the people out there for sure up to a small extent and learn something new in your life. Thus, we welcome you to come to this Mauritius summer package with us.
Highlights
Enjoy the most enchanting experience of sightseeing at Mauritius
Excursion of Ile Aux Cerfs
Feel the beauty of Mauritius
Island sightseeing
Get an awesome experience of Watersports activities
Itinerary
Day 1 Mauritius: Arrival and Leisure Day
Arrival in a beautiful country with a cheerful mood.
On the very first day when you will land at Airport and our representative will escort you to the nearest hotel. He will help you there in the check-in process. Then you will take a sufficient amount of rest for about 2 to 3 hours, you will start your amazing journey. After that in the evening, you will do necessary shopping in the market and can enjoy on your own freedom. Thus you can hang out at the market for the sake of enjoyment. After doing the necessary shopping you will come back to the respective hotel for rest.
Day 2 Excursion to Ile Aux Cerfs
See the enchanting beauty of Ile Aux Cerfs and experience the life to the fullest.
On this day of your unforgettable journey after having breakfast, we will start your journey to Ile Aux Cerfs, the most beautiful place of Mauritius. Here at this place, you are going to do some water sports activities like parasailing, tube ride and many more in a single day. Thus, this day will prove to be the best day of your journey as you are going to experience the most part of your journey to Mauritius on this particular day. We will properly guide you at every nook and corner throughout on this day and will try our best possible effort to satisfy you. In the evening, you will come back to the hotel for overnight stay and take adequate rest there.
Day 3 North Island tour
Visiting one of the beautiful places of Mauritius.
On the third day of your journey, you will be taken to see the Island of Mauritius i.e. North Island. It is one of the best places of Mauritius in terms of its beauty and looks. There are a lot of things that you can see here like living conditions of people, natural biodiversity, flora and fauna, and its natural environment. We will take you to see this island fully and your whole day will be spent here in our care. After that in the evening, we will take you back to the hotel for rest and sleep.
Day 4 South Island tour
Having a look at the Island part of Mauritius.
After having done with your breakfast we will take you to South Island. This is not a simple island. It is basically an umbrella of beauty and may be regarded as one of the best places of Mauritius which an individual must visit in his/her lifetime. The other beautiful things that are worth notable here is its landscape that enchants millions who come here every year. After then you will see this island fully and your whole day will be spent here in our care. After that in the evening, we will take you back to the hotel for rest and sleep.
Day 5 Mauritius: Departure
Bid Bye to Mauritius
On this very last day of your unforgettable journey, you will check out from the hotel with the help of our representative. After that, you will come to the nearest airport for departure. Thus, it will be the most enchanting experience of your life and you will never ever forget this journey in your life span and will feel proud to proclaim that you visited it with us.
Inclusions:
*Accommodation in well appointed room
*Meals as per hotel plan
*All transfers & sightseeing as per the itinerary in an air – conditioned vehicle
*All toll taxes, parking fees & drivers allowance.
Exclusions:
*GST 5% ON TOTAL PACKAGE
*Anything not mentioned under 'Package Inclusions'
*All personal expenses, optional tours and extra meals
*Camera fees, alcoholic/non-alcoholic beverages and starters
*Vehicle service on leisure days for sightseeing not included in the itinerary
*Medical and travel insurance.
Payment Policy
*30 days or more before date of departure : 25% of total cost
*29 – 20 days before date of departure : 50% of total cost
*19 days or less before date of departure : 100% of total cost
Cancellation Policy
If you Cancel your Holiday
You or any member of your party may cancel their travel arrangements at any time. Written notification or an e-mail to that effect from the person who made the booking must be received at our office. The cancellation charges applicable are as per the published cancellation policy below:
Cancellation charges per person:
30 days or more before departure: 25% of total cost
29 – 20 days before departure: 50% of total cost
Less than 16 days before departure: 100% of total cost
If we change or cancel your holiday We do plan the arrangements in advance. It is unlikely that we will have to make any changes to your travel arrangements.
Occasionally, we may have to make changes and we reserve the right to do so at any time. If there are any changes, we will advise you of them at the earliest possible date.
We also reserve the right under any circumstances to cancel your travel arrangements by assigning reasons to you. If we are unable to provide the booked travel arrangements due to reasons beyond our control (e.g. bad weather):We shall first try to offer alternative dates for the tour if the tour hasn't already commenced.
If the tour has already commenced, then we shall refund the booking price/fee charged to you on a pro-rata basis depending on the portion of the tour utilized by you. In all circumstances, however, our liability shall be limited to refunding to you the price we charged as tour fees.
If you want to change your holiday plan after confirmation of services, if you wish to change your travel arrangements in any way (e.g. your chosen departure date or accommodation), we will do our utmost to make these changes but it may not always be possible. Any request for changes must be in writing from the person who made the booking. All cost incurred due to amendment will be borne by you.
If you have a complaint :
If you face any problem during your holiday, please inform the relevant supplier (e.g. your hotelier, transporter etc.) and/or our representative immediately who will endeavour to set things right. If your complaint is not resolved locally, please follow this up within 28 days of your return home by writing to us, with your booking reference and all other relevant information. However, please be advised that while we are happy to assist you in the redressal of your complaint, if any, we will be able to extend only our best efforts in managing/coordinating your complaint with the respective service provider. All third party service providers are independent contractors who are at no time under our control or supervision.
All booking vouchers and tickets will be provided 3 days before departure.
Terms & Conditions
– Confirmation of holiday package or hotel room subject to receipt of 100 percent payment.
– The company is responsible for only those services which are charged from the guest. All other services which are not paid by the guest to the company are suggested services and company is nowhere bound to provide that service or pay the cost for the same.
– Mandatory for guests to present valid photo identification e.g. driving license, voter's card, passport and ration card, at the time of check-in at the hotel. Without valid ID the guest will not be allowed to check in at the hotel or wherever required.
– As per the Govt. of India rules, all foreign guests need to produce their passport, photo ID proof and visa documents. Indian guests should also carry valid proofs like passport, driving license, PAN Card and voter's ID card, to the hotel at the time of check-in to avoid any inconvenience at the date of check-out.
– The hotel reserves the right of admission or cancellation of booking, if guests fails to provide suitable identification proof at the time of check-in. Company will not be responsible for such aforesaid reasons.
– Check-in and check-out timing of the hotel will be according to the timing of the respective hotels policy. Early check-in or late check-out are on request basis only and subject to availability of rooms.
– In case of non-availability of hotels given in package, arrangement for an alternate accommodation will be made in a hotel of similar standards or category.
– Maximum allowed occupancy in one room is 3 Adults or 2 Adults + 1 Child below 12 years.
– Meal Plan, if any, are specified in the voucher issued by the hotel and the same is applicable from the check-in time of 12 noon, standard terms for a plan. Meals will be served as per the hotel policy. Extra, if any, will be payable by guest directly.
– The third person sharing the room is provided with an additional mattress or a rollaway bed or as based on the hotel policy. In case of child, hotel package booked without bed basis and you decided to take extra bed, then you have to pay that cost directly to the hotel.
– High season / Festivals / Peak season surcharges are applicable.
– The rescheduling of date / postponement shall be treated as cancellation and confirmation of new dates subject to availability and in case of change of rates the difference shall be payable by the guest / tour operator.
– The cancellation of booking governed by the cancellation policy of the hotel and service charge of INR 1000/- shall be applicable for each booking.
– On cancellation of any package or hotel reservation advance payment received shall be refunded subject to the Terms & Condition of cancellation policy of that specific hotel / resort.
– The applicable tariff / packages are subject to change without prior intimation.
– Check-out and check-in timing as per hotels policy, if arrival time is not mentioned, the reservations will be released at 6:00 PM.
– All taxes, extra as per government notification.
– Company will not be responsible nor liable for compensating any loss / damage / injury or additional cost incurred by the guest while taking the tour.
– Any claim related to the package must be brought to the notice of the company within a week.
– No show or non-utilization of services, 100 percent of tour cost shall be charged.
– Company reserves the right to change / modify / amend these Terms and Conditions at any time without notice.
– Cost, due to change in itinerary or stay on account of flight cancellation due to bad weather, ill health, roadblocks and / or any factors beyond control shall be payable by the guest or the tour operator directly to the hotel.
– Airline seats confirmation are subject to availability at the time of booking and any increase in air fare or taxes has to be borne by the client itself.
– For payments above INR 20,000, copy of PAN Card is required.
Hermon World Tours & Travels
Managing Director: M. Deepak Raj B. E (Mech) from 2011
Started the World Travels providing the best services.
Hermon world tours and travel is one of the best travel agency in India. Hermon travels provides online travel services, International and domestic travel best packages. Tourism and travel-related services includes service provided by hotels and restaurants, tour operator service, tourist guide services. One of the most crucial aspects of international tourism is the cross-border movement of customers. good customer service provided at every part of tourism either it is in hotel, restaurant, travel agency, flight etc. Regardless of how rude and demanding the customer can be we keep positive attitude and be friendly with the customer.
Here We Go:-
*100% tailor made/Customized
*Your entire holiday is designed as per your requirements.
*Explore your interests at your own speed and choices.
*Select your preferred style of destination and Accommodation.
*Make unlimited fun and memories of your cherished Holidays.
*Create and enjoy the perfect trip with Hermon World Tours & Travels.
If u Want to book this package transfer the amount to our bank and send the transfer details to email at info@hermonworldtours.com or Whatsapp +919353090909
Bank Account Details
| A/C Name | Account No: | IFSC Code: | Bank Name | Branch Name |
| --- | --- | --- | --- | --- |
| Hermon World Tours& Travels | 50200048325179 | HDFC0001293 | HDFC | East Marredpally |
You Can Make The Payment through GooglePay or PhonePe: 9441813898
Help & Support
Call Us Now
+91-9353090909