Sri Lanka (A Grand Holiday in Sri Lanka Package) 31,999/-
Hermon World Tours & Travels 
Sri Lanka (A Grand Holiday in Sri Lanka Package)
Stay: 7 Nights 8 Days: Kandy 2 Nights | Nuwara Eliya 2 Nights | Bentota2 Nights | Colombo 1 Nights.
Inclusions: Meals, Flights, Accommodation, Transfer, Sightseeing
Themes: Shopping, Family, Luxury, Hill stations, Bestseller, Sightseeing
Features :
Hermon World Tours & Travels 
Sri Lanka (A Grand Holiday in Sri Lanka Package)
Stay: 7 Nights 8 Days: Kandy 2 Nights | Nuwara Eliya 2 Nights | Bentota2 Nights | Colombo 1 Nights.
Inclusions: Meals, Flights, Accommodation, Transfer, Sightseeing
Themes: Shopping, Family, Luxury, Hill stations, Bestseller, Sightseeing
About 
Sri Lanka, formerly called "Ceylon", is an island nation in the Indian Ocean, southeast of the Indian subcontinent, in a strategic location near major Indian Ocean sea lanes. The nation has a total area of 65,610 km², with 64,740 km² of land and 870 km² of water. Its coastline is 1,340 km (830 mi) long.
Sri Lanka Tourism Guide – The pearl shaped island is a paradise for any tourist and it is quite a smart idea for you to make it your honeymoon destination. The blend of Buddhist culture and the exotic beaches in the island make it a perfect destination for anyone. There are various Sri Lanka tour packages that are available for the visitors from India and you can make a check upon the same to find the one that suits you the most.
These package allow you to have a visit to almost all the top destinations across Sri Lanka. There is also an option for you to design the tour package as per your choice. You can put in the destinations that you want to visit while planning a tour to the island country. These Sri Lanka holiday packages can help you with all the popular sites in the country that you shall visit.
You will get to visit the biological diversity of the Sri Lanka in the best manner.
You can have a look at the beautiful flora and fauna of the island that make it such an awesome paradise for everyone. At the same time, they also take full care of your comfort and luxury while you are on a tour to Sri Lanka. You must keep checking on all the updates on the internet about the packages so that you are able to steal the best deal on the internet.Sri Lanka tourism is paying special attention towards the biodiversity tours in Sri Lanka and it is a great visit for you when you are a biodiversity lover.


Best time to visit Sri Lanka – This is one of the most important things that you shall have in mind before planning your trip to Sri Lanka. If you are not going for the holidays at right juncture of time, you will not be able to make the most of your tour. The best time to have a visit to the southern and western coasts of the island is from December to March.
The weather is cool and friendly during this period of time and thus you can opt for the best tour packages for Sri Lanka during this period.
DAY 1
Arrival in Sri Lanka – Pinnawala – Kandy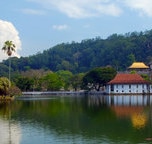 Spend a perfect holiday in Sri Lanka which commences upon arrival at the Colombo airport. Thereafter make way to Kandy which is 116 kilometres from Colombo. Lying amidst the hills, Kandy is the last capital of the ancient kings of Sri Lanka. With its luxuriant prairie, picturesque lake, longest river of the country and misty mountains, Kandy mesmerizes every visitor.
Enroute visit Pinnawala Elephant Orphanage to enjoy the exceptional experience of feeding and bathing elephants. Your next visit will be to the Peradeniya Botanical Gardens which is a paradise for nature lovers.
Post having your dinner, enjoy your overnight stay at the Hotel.
(Entrance fees to sites not included)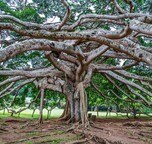 After the delicious Breakfast, proceed for Kandy City Tour which includes visit to one of the world heritages as well as a sacred place for the Buddhists all over the world; namely the Temple of tooth Relic known to the Sri Lankans as Dalada Maligawa. If time permits, you may proceed to the Kandy Lake where you can enjoy a leisure walk. The real evidence of the richness will be affirmed by your visit to the Gem Museum. Sri Lanka produces the finest quality of gems in the world. In the evening you will witness a traditional cultural dance show. Post having your dinner, enjoy your overnight stay at the Hotel.
(Entrance fees to sites not included) Breakfast Dinner
DAY 3 Kandy – Nuwara Eliya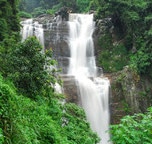 After the Breakfast, proceed for Nuwara Eliya and enjoy the city Tour. Visit Tea Garden. Later proceed for Ramboda Falls – A gigantic water fall having three parts and very close to the 53km post along the above A-5 trunk road.
After the excursion, head to the hotel for an overnight stay post enjoying the dinner.
(Entrance fees to sites not included) Breakfast Dinner
DAY 4 Nuwara Eliya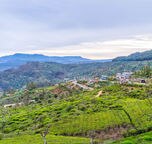 After the Breakfast, leave for Nuwara Eliya city Tour. Proceed for Seetha Eliya which is believed to be the spot where Sita was held captive by the demon king Rawana. This was the place where Sita used to pray daily for Rama to come and rescue her. Later visit Haggala, a temperate hill-country garden. Next you will visit the Victoria Park, in the middle of the town, is a lovely place for a stroll or a picnic and is also good for Birding as you get some rare birds in this Park. Post having your dinner, enjoy your overnight stay at the Hotel.
(Entrance fees to sites not included) Breakfast Dinner
DAY 5 Nuwara Eliya – Bentota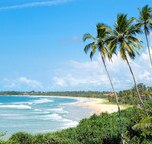 After the Delicious Breakfast, proceed for Bentota via Kithulgala. En route enjoy White water rafting(Optional) . Kithulgala It is one of the most famous places for White Water Rafting adventures. However there are many more reasons why this spot, just 100 kms from the capital Colombo, is well worth visiting. Chief among these are the historic Beli Lena Caves where the pre-historic Balangoda Man supposed to have lived. David Lean's epic war film Bridge on the River Kwai was filmed in this area of the Kelani River, which runs through Kitulgala, and the ruins of the bridge still remains. Post having your dinner, enjoy your overnight stay at the Hotel.
(Entrance fees to sites not included) Breakfast Dinner
DAY 6 Bentota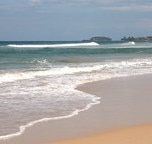 After the Breakfast, leave for Bentota City Tour. This quintessential laid-back seaside gateway is just the perfect places to laze around and take part in water sports activities. When in Bentota, enjoy Madhu river safari (at an additional cost) to watch the unique tradition of stilt fishing. Experience the natural rhythms while passing by islets forested with mangroves.
For more exclusive experience, head for an excursion to Turtle Hatchery, a sea turtle conservation project operated by the Wildlife Protection Society of Sri Lanka to see all the volunteers work to save baby turtles. After being fed, the baby turtles are taken to the sea and released when they are 2-4 days old, usually during the safer hours of darkness. Post having your dinner, enjoy your overnight stay at the Hotel.
(Entrance fees to sites not included) Breakfast Dinner
DAY 7 Bentota – Colombo/Negombo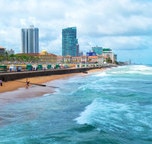 Start your day with a delicious breakfast and embark on a ride to Colombo, the largest city in Sri Lanka featuring colonial architecture, buzzing nightlife scene, good museums, manicured parks and beautiful Buddhist temples. Upon arrival, head for Colombo sightseeing tour which includes an excursion to Galle Face Green, the Viharamahadevi Park, National Museum, Twin World Trade Center towers, Old Parliament Building, Fort district, Independence Hall at Independence Square and prominent Buddhist, Hindu, Islam and Christian places of worship.
For shopping, you may visit Odel, House of Fashion, Beverly Street, Majestic City, Noritake, etc. After an action-packed day, check-in at the hotel, have dinner and enjoy a relaxed overnight stay.
(Entrance fees to sites not included) Overnight stay at Colombo/Negombo. Breakfast Dinner
DAY 8 Departure
Post Breakfast, leave for the airport for your return Journey. Breakfast
Inclusions:
*Accommodation in well appointed room
*Meals as per hotel plan
*All transfers & sightseeing as per the itinerary in an air – conditioned vehicle
*All toll taxes, parking fees & drivers allowance.
Exclusions:
*GST 5% ON TOTAL PACKAGE
*Anything not mentioned under 'Package Inclusions'
*All personal expenses, optional tours and extra meals
*Camera fees, alcoholic/non-alcoholic beverages and starters
*Vehicle service on leisure days for sightseeing not included in the itinerary
*Medical and travel insurance.
Payment Policy
*30 days or more before date of departure : 25% of total cost
*29 – 20 days before date of departure : 50% of total cost
*19 days or less before date of departure : 100% of total cost
Cancellation Policy
If you Cancel your Holiday
You or any member of your party may cancel their travel arrangements at any time. Written notification or an e-mail to that effect from the person who made the booking must be received at our office. The cancellation charges applicable are as per the published cancellation policy below:
Cancellation charges per person:
30 days or more before departure: 25% of total cost
29 – 20 days before departure: 50% of total cost
Less than 16 days before departure: 100% of total cost
If we change or cancel your holiday We do plan the arrangements in advance. It is unlikely that we will have to make any changes to your travel arrangements.
Occasionally, we may have to make changes and we reserve the right to do so at any time. If there are any changes, we will advise you of them at the earliest possible date.
We also reserve the right under any circumstances to cancel your travel arrangements by assigning reasons to you. If we are unable to provide the booked travel arrangements due to reasons beyond our control (e.g. bad weather):We shall first try to offer alternative dates for the tour if the tour hasn't already commenced.
If the tour has already commenced, then we shall refund the booking price/fee charged to you on a pro-rata basis depending on the portion of the tour utilized by you. In all circumstances, however, our liability shall be limited to refunding to you the price we charged as tour fees.
If you want to change your holiday plan after confirmation of services, if you wish to change your travel arrangements in any way (e.g. your chosen departure date or accommodation), we will do our utmost to make these changes but it may not always be possible. Any request for changes must be in writing from the person who made the booking. All cost incurred due to amendment will be borne by you.
If you have a complaint :
If you face any problem during your holiday, please inform the relevant supplier (e.g. your hotelier, transporter etc.) and/or our representative immediately who will endeavour to set things right. If your complaint is not resolved locally, please follow this up within 28 days of your return home by writing to us, with your booking reference and all other relevant information. However, please be advised that while we are happy to assist you in the redressal of your complaint, if any, we will be able to extend only our best efforts in managing/coordinating your complaint with the respective service provider. All third party service providers are independent contractors who are at no time under our control or supervision.
All booking vouchers and tickets will be provided 3 days before departure.
Terms & Conditions
– Confirmation of holiday package or hotel room subject to receipt of 100 percent payment.
– The company is responsible for only those services which are charged from the guest. All other services which are not paid by the guest to the company are suggested services and company is nowhere bound to provide that service or pay the cost for the same.
– Mandatory for guests to present valid photo identification e.g. driving license, voter's card, passport and ration card, at the time of check-in at the hotel. Without valid ID the guest will not be allowed to check in at the hotel or wherever required.
– As per the Govt. of India rules, all foreign guests need to produce their passport, photo ID proof and visa documents. Indian guests should also carry valid proofs like passport, driving license, PAN Card and voter's ID card, to the hotel at the time of check-in to avoid any inconvenience at the date of check-out.
– The hotel reserves the right of admission or cancellation of booking, if guests fails to provide suitable identification proof at the time of check-in. Company will not be responsible for such aforesaid reasons.
– Check-in and check-out timing of the hotel will be according to the timing of the respective hotels policy. Early check-in or late check-out are on request basis only and subject to availability of rooms.
– In case of non-availability of hotels given in package, arrangement for an alternate accommodation will be made in a hotel of similar standards or category.
– Maximum allowed occupancy in one room is 3 Adults or 2 Adults + 1 Child below 12 years.
– Meal Plan, if any, are specified in the voucher issued by the hotel and the same is applicable from the check-in time of 12 noon, standard terms for a plan. Meals will be served as per the hotel policy. Extra, if any, will be payable by guest directly.
– The third person sharing the room is provided with an additional mattress or a rollaway bed or as based on the hotel policy. In case of child, hotel package booked without bed basis and you decided to take extra bed, then you have to pay that cost directly to the hotel.
– High season / Festivals / Peak season surcharges are applicable.
– The rescheduling of date / postponement shall be treated as cancellation and confirmation of new dates subject to availability and in case of change of rates the difference shall be payable by the guest / tour operator.
– The cancellation of booking governed by the cancellation policy of the hotel and service charge of INR 1000/- shall be applicable for each booking.
– On cancellation of any package or hotel reservation advance payment received shall be refunded subject to the Terms & Condition of cancellation policy of that specific hotel / resort.
– The applicable tariff / packages are subject to change without prior intimation.
– Check-out and check-in timing as per hotels policy, if arrival time is not mentioned, the reservations will be released at 6:00 PM.
– All taxes, extra as per government notification.
– Company will not be responsible nor liable for compensating any loss / damage / injury or additional cost incurred by the guest while taking the tour.
– Any claim related to the package must be brought to the notice of the company within a week.
– No show or non-utilization of services, 100 percent of tour cost shall be charged.
– Company reserves the right to change / modify / amend these Terms and Conditions at any time without notice.
– Cost, due to change in itinerary or stay on account of flight cancellation due to bad weather, ill health, roadblocks and / or any factors beyond control shall be payable by the guest or the tour operator directly to the hotel.
– Airline seats confirmation are subject to availability at the time of booking and any increase in air fare or taxes has to be borne by the client itself.
– For payments above INR 20,000, copy of PAN Card is required.
Hermon World Tours & Travels
Managing Director: M. Deepak Raj B. E (Mech) from 2011
Started the World Travels providing the best services.
Hermon world tours and travel is one of the best travel agency in India. Hermon travels provides online travel services, International and domestic travel best packages. Tourism and travel-related services includes service provided by hotels and restaurants, tour operator service, tourist guide services. One of the most crucial aspects of international tourism is the cross-border movement of customers. good customer service provided at every part of tourism either it is in hotel, restaurant, travel agency, flight etc. Regardless of how rude and demanding the customer can be we keep positive attitude and be friendly with the customer.
Here We Go:-
*100% tailor made/Customized
*Your entire holiday is designed as per your requirements.
*Explore your interests at your own speed and choices.
*Select your preferred style of destination and Accommodation.
*Make unlimited fun and memories of your cherished Holidays.
*Create and enjoy the perfect trip with Hermon World Tours & Travels.
If u Want to book this package transfer the amount to our bank and send the transfer details to email at info@hermonworldtours.com or Whatsapp +919353090909
Bank Account Details
| A/C Name | Account No: | IFSC Code: | Bank Name | Branch Name |
| --- | --- | --- | --- | --- |
| Hermon World Tours& Travels | 50200048325179 | HDFC0001293 | HDFC | East Marredpally |
You Can Make The Payment through GooglePay or PhonePe: 9441813898
Help & Support
Call Us Now
+91-9353090909